December 19, 2018
How To Jump Start Your Car?
Is your car battery almost dead and your car is giving problem in getting start. Have you tried jump starting your car?
If no give it a try and see how easy it can be to start your car on your own. All you have to do is jump start your car and recharge your batteries. This is the fast way to get on the road back and move further.
So now let's discuss how to jump start your car?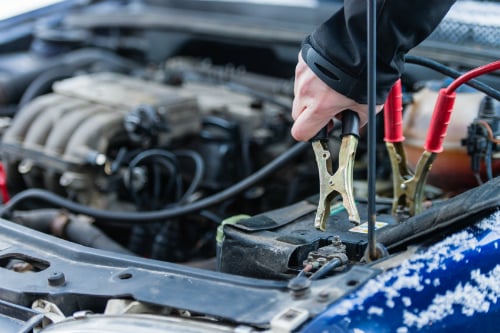 1.) Arrange the tools :- First thing you will need for this is jumper cables, if you already have some with you than its good, as any jumper cable will work with it. But if you have to buy than go for the cable which have the gauge of 4 to 6 and they should be at least 20feet long. This length will help you to reach the other car with whose battery you are going to jump start your car. Next you will be needing clamps. Heavy duty clamps are best for such works. And most importantly a second car whose battery will help you to jump start your car battery. Make sure the other car which is going to help your car have the batteries in good condition so that all the hard work results in good.
2.) Making the connection :- Now the next step is to make the connection, but for this you have to be very careful, make sure you don't mishandle the cables as if they got in connection with each other than there are chances of spark and short in either of the vehicle which can further result in much harm to any of the car. Then make the connection, take positive clamp, which is red in colour and connect its one end to the positive post of the dead batteries and the other to the positive of the other cars positive post. After this connect the negative clamp and connect it to the negative clamp of the good battery and the other end of the cable should be clamped to the unpainted piece or bolt of the car's frame and check the clamps that the are clamped securely.
3.) Start the engine :- Now is the time to give the start to your cars, first start the car with good batteries and leave it and then try to start your car if it get started than drive it for 15-20 minutes and recharge your dead batteries but if there is no working or just interior lights getting on not the engine starting than there are fair chance that your car's battery are not at fault.
So with these simple steps and necessary precautions one can solve their problems of car not getting started but if all this don't work than get your car checked at the technician and find out precisely what the problem is.
Posted by: stacy johnna at 07:58 AM | Comments (2) | Add Comment
Post contains 489 words, total size 4 kb.
11kb generated in CPU 0.02, elapsed 0.0309 seconds.
32 queries taking 0.0208 seconds, 45 records returned.
Powered by Minx 1.1.6c-pink.